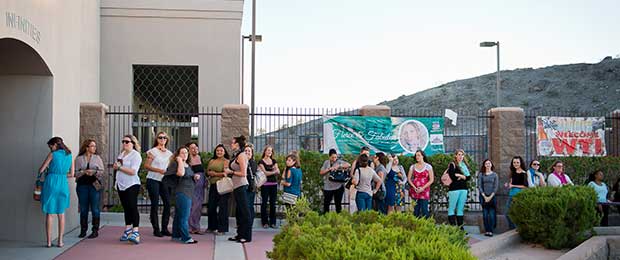 Mollie has been delighting audiences with her Stand up comedy and motivation speaking since 2006.

Over 20,000 hardback copies of Confessions of a Military Wife have been sold and is on the First Lady of the Marine Corp's Recommended Reading List. Mollie is also the number one e-book published by Savas Beatie overall. Due to her success, she has two more books in the works with her publisher.
Her primary audience of 18-24 year olds is an ever-growing population. Additionally, her writing, speaking and comedy is also sought out by women of all ages and husbands of all ranks, in all branches of the military.
Mollie Gross' humor and hard-hitting advice, reaching her global audience with her "Ask Mollie Column" ranging from mother-in-law issues to PTSD and everything in between, published monthly in Military Spouse Magazine for the last four years.
Her advice has been described as "a fresh, fun-filled version of Dear Abby, Kathy Griffin, and Dr. Laura wrapped up into a little five foot package, with a passion for helping military wives" says one of her fans.
Count on her top-notch stage presence since 2006. She is known to pull in an audience of 1,500 for a sole booking, and has been professionally trained by top speaking and comedy coaches in Los Angeles. She is frequently sought out by international media as an expert for films, television and radio productions and has been seen in several films, musical theater, and is an improv sketch player.
In addition to performing at top comedy clubs and military bases, Mollie Gross also encourages and inspires audiences with her Motivational Speaking. Mollie has been seen in several films, musical theater, and is an improv sketch player and a monthly contributor to Military Spouse Magazine. In 2010 she joined Spouse Buzz sponsored by USAA and Military.com. Her book, "Confessions of a Military Wife" has received rave reviews from Military wives, troops, and civilians. By mixing comical stories with hard hitting advise, "Confessions…" has a loyal following. Despite her varied talents, her focus is to bring her comedy directly to the wives who need entertainment the most, the ones left behind; the Silent Ranks.. Says one of her fans "(her) killer wit, natural charisma, and comedic glow let us laugh when we need it most."
Military wives can connect with Mollie's humor 24/7 through youtube. She has a viral presence in the military community and connect through her comedy clips again and again.
Hi Mollie! You came to Hawaii and spoke in (2014) and I enjoyed it so so much. I thought I would share with you! My Grammy passed away when I was 22 and I had just decided I would follow my long time boyfriend to Hawaii where he was stationed. Once I got here I quickly felt lonely and depressed. I had a hard time finding a job that I could use my bachelors with and Tony was a corpsman in weapons company so out of the three years we were here he was only on island for 10 or 11 months total in the 3 years. It made the transition so shitty for me being alone and also not being a "wife" at first since kbay is such a small community and I didn't live on base. You made me realize after that speaking engagement at the officers club that my Grammy would have told me to enjoy the ride 😊 she was a 22 year navy wife and I was so caught up in grieving losing her as I entered this world where I could've used her advice that I forgot to just ask myself what she would've done. As we get ready for our first official "pcs" (since we since tied the knot on island) I am feeling more ready for San Diego and not down in the dumps anymore. I am embracing the opportunities that her service has given me. I'm even MISERABLE at the thought of leaving Hawaii now (go figure) so thank you so much for sharing your story! – Mia Bell
We were so pleased to have Mollie attend our Spouse Appreciation Event.  The military lifestyle can be stressful and the timing of this event was perfect – everyone needed to laugh! – MCFTB, MCAS Yuma
The spouses were asking for her. She's got great energy, and she really has a wonderful story to tell, having been a military spouse. I think she could relate to the (spouses) and (they) could relate to her. On Sunday, 30 March, 200 Marine Corps Base (MCB) Hawaii spouses attended a two hour presentation/performance by author, comedian, and motivational speaker Mollie Gross. As Mollie shared her experiences as a Marine Corps spouse, and the lifetime friends she met along the way; there were tears, laughter, and at the end of it all a bonding with the spouses. Mollies' energetic and upbeat persona, sent waves of energy through the room exhilarating the spouses. Mollie concluded her visit with an autograph signing of her book, "Confessions of a Military Wife," and photos and shared stories with each guest. – Bobbie Brock Special Event Coordinator, MCCS, MCB Hawaii
thank you for coming to MCBH today! your first book got me through my husbands first afghan deployment, and i really enjoyed the words you shared today! I'm currently going through our second deployment in less then 2 yrs and your words today were exactly what i needed to hear! Thank you for inspiring me to stay positive and not be afraid to have goals of my own! – Kate Coffey
I had such a wonderful time meeting you and listening to you speak! I am really looking forward to your new book! You have such an awesome testimony. – Alicia Marie Terwilliger
Really enjoyed seeing you at Miramar on Friday! It's always nice to have a good laugh (especially while the hubs is deployed)! – Kori Smith
Got to meet the incredible Mollie SG tonight! If you are a Military wife and get the chance to see her take the time to do so! So glad I finally got the chance, great show and lots of laughs! – Jenny Kraus
Mollie you were awesome! Totally rocked Was so great to be able to meet you….me, my mom, an my nana loved you an your show! We had a great "girls night out" an my Nana complimented on how you signed the book to me Keep up the great shows an look forward to reading your book, listening to your CD an so forth! An thanks for ur advice too. PS we were laughing the entire time…couldn't stop! – Michelle Quinn Lockard
Mollie, thank you so very much for coming out and giving us a reason to laugh at this amazing Marine Corps lifestyle! My cheeks and head hurt from laughing so hard. I am really glad that I got my spouses to come out and see you, they had a blast! Thank you to you and your husband for all you have done and continue to do! – Carln Keldurmn Burgen
Love, Love, Love Mollie Gross My hubby is a GRUNT as well so I can totally relate with u…LOL You are Fabulous —MWSS 373 – Lani Sanford
Had a great time! Such an awesome show and it was so cool to get to meet you!! Started reading your book tonight already and it sucked me in immediately. Thank you for everything! – Jena Myree Hacker
You were hysterical! I hope you come back soon! – Ashley Sweeney
You were fantastic!! I laughed so hard my face hurt!! – Allyson Monaco Tulowitzki
Hilarious – Feleasa Lisa Dunmeyer
It rocked! – Michelle Quinn Lockard
Thanks for coming!! You were awesome! Can't wait to read your book! – Melissa Mick