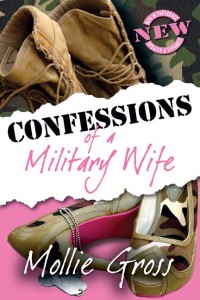 Mollie's book, Confessions of a Military Wife, has made the First Lady of the Marine Corps' Recommended Reading List! Click here to learn more and see the complete list.
4.5 Star Rating on Amazon.com
Paperback has NEW EXPANDED EDITIONS:
16 additional photos
20+ pages of additional content, including sections titled:
Ok, then what happened???
Proud Veteran's Wife
Thank you!
Book Club Questions
Scavenger Hunt
Yearbook Section
#1 E-Book from Publisher Savas Beatie
Mollie's book, Confessions of a Military Wife, is now available for $18.95! Order now and receive free autograph!
Interview with Mollie Gross on her NEW paperback edition of Confessions…
See what others are saying about the book!
Have not read the book yet? Considering it? Want to know what is being said about Mollie Gross' book Confessions? Check this out:
Misty Lingle, Navy Wife:
Your book saved my relationship and my sanity. I thought if I loved him enough it would see us through without any bumps along the way; but when there is a third person running your relationship and that person is the navy your in for a heck of a rollercoaster! Your book should be required reading for any women even thinking of marrying a military man and it should be passed along with the kleenex upon deployment,you have probably saved thousands of relationships and tons of womens sanity so THANK YOU times a million!
Samee Daughery says:
I am reading your book and it is literally the first book that I can say I have EVER enjoyed! Love your writing style and I can really hear your voice through your reading your words! I can completely relate to your book even though I have never been through a deployment with my husband I understand what you are saying. I do not know what it feels like to have gone through those experiences but from reading your words I can still find answers to some my military spouse wonders. I find it awesome that you were stationed all over and I love how when you talk about Parris Island or base housing I know exactly what you are talking about because I see it everyday! It's exciting to know that I share things in common with you and this book is public and very well known and I know in my mind that I am somewhat a part of this book! You're awesome! Thanks for writing this book! It makes many things make sense. I also appreciate how you decode all of the words and mention the civilian spouses in the book as readers, because this book will really open the eyes of people who are completely unrelated with the military life.I could go on and on, but I won't, over all amazing book! Thank you!
Shawna Nylund says:
OMG… you're book caused quite a commotion last night. I started reading it around 2 in the morning because I couldn't sleep and after page one I was laughing my ass off. Well by page 20, I was laughing so hard I almost peed my pants. Since we had company over sleeping in the living room, I didn't want to wake them and turn lights on (although I'm sure my laughing woke them). Well running while doing the potty-dance through a dark house isn't a good idea, because I ran into the footlockers my fiance sent back from Iraq which sent them flying into the wall. At that point, all I could do was laugh. Unfortunately, I laughed too hard and ended up peeing my pants.
and Ginger Goetz says:
JUST FINISHED your book, "Confessions of a Military Wife" .. and wow .. this is a must read for everyone even considering marring into the military.. Would my life have been easier if I read this 4 years ago.. Mollie Gross: this book made me laugh hysterically (even though the hubby is deployed) and that's not easy, made me cry, made me feel proud to be a military wife. ( Mollie Gross) is so laid back; doesn't wear her hubby's rank on her sleeve. She is your teacher, your confidante, your best friend through this book. You will feel like your right there with her. NOTHING has ever touched me like this. Mollie is unmistakably a captivating Marine wife/ author. There is no doubt that you will relate to many things and find that you are strong and WILL get threw together.. READ THIS BOOK!!! <3 Mollie: WRITE MORE!!! <3
Even the troops love her book! 
Mollie,I just finished reading you book last night and want you to know that I thought it was wonderfully hilarious! I am currently serving in the Army, deployed with the OEF effort, so your book really hit home. It also helps me relate in that I was married just one month before deployment! I just ordered another copy of your book to send my wife back home.

–Spc. Richard Matulja